Photo: Near East Area Renewal (Facebook)
NEAR works with Near East residents and partner organizations to spur the renewal of...
Photo: Dario Trimarchi (Flickr)
The new manufacturing facility will formulate, fill, freeze-dry and package inject able drugs for clinical trial...
Photo: Michael Candelori (Wikimedia Commons)
President-elect...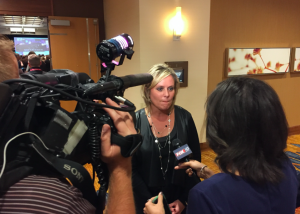 Jennifer McCormick speaks with the press on election night, after defeating Glenda Ritz for state superintendent. (photo credit: Eric Weddle/WFYI)
The Indiana Department of Education fired 34 employees this week,...
The prow of the original USS Indiana battleship sits outside Memorial Stadium.