Wienerschnitzel, Home of America's Favorite Hot Dog, teamed up with Skate For Change, a nonprofit that encourages youth to give back to the lesser fortunate in their communities, for its second annual Hot Dogs for Homeless tour. Beginning March 25, a Wienerschnitzel-wrapped RV, aptly named...
Firehouse Subs opened its first location in Glastonbury, Connecticut, on March 21. The award-winning fast-casual chain serves premium meats and cheeses steamed piping hot and piled high on a toasted sub roll, which is served "Fully Involved" with fresh produce and condiments. Founded by former...
Photo: WFIU Public Radio
The college search committee will now choose some applicants for in-person interviews.
More than 30 people from in and outside Indiana...
Gov. Mike Pence signs 13 bills into law, surrounded by lawmakers and veteran advocates.

Read More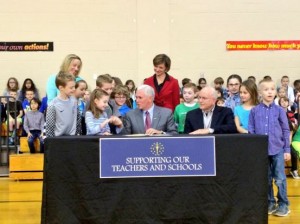 Gov. Pence signed HEA 1395 at Eagle Elementary School in...
Photo: lilly.com
Eli Lilly and Company has its EU headquarters in Belgium. They confirm that all Lilly employees are safe.
Terrorist attacks...