Photo: Brandon Smith
U.S. Chamber senior VP Rob Engstrom talking...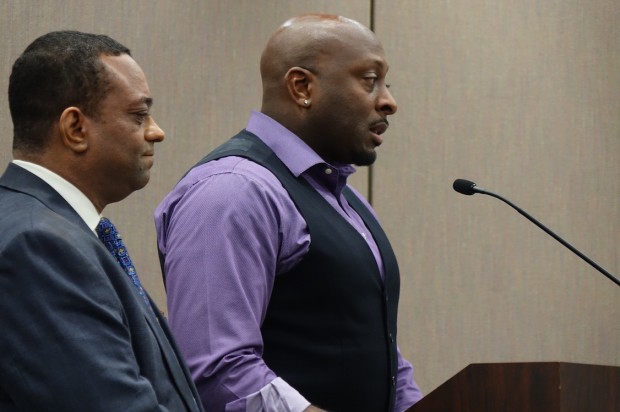 Tony Walker,...
A federal judge will not temporarily halt her ruling on Indiana's refugee resettlement program. The state will have to provide funding to...
Photo: Indiana State Police
Police arrested Kyle Parker last week after finding the body of 1-year-old Shaylyn Ammerman
The man accused of killing 1-year-old...
The Halal Guys, the first mainstream American Halal food restaurant chain, will open their first East Coast location outside of New York City in April. The franchised location will open in East Brunswick, New Jersey, on Route 18 South, and is the first of a...
To celebrate National Pretzel Day on April 26, Ben's Soft Pretzels, an Amish-inspired soft pretzel franchise offering preservative free pretzels baked fresh on-site daily, will give away free pretzels with a minimum $1 donation to the Intrepid Fallen Heroes Fund. The free pretzel promotion will...
Paytronix Systems Inc., a leading provider of reward program solutions to restaurants and retailers, announced the fourth winner of its 2016 Paytronix Loyaltees Awards. Which Wich Superior Sandwiches wins the "Best Loyalty Launch" for the successful rollout of a new digital rewards program across 400...
Dog Haus, the celebrated gourmet hot dog, sausage, and burger concept, continues its ambitious expansion beyond its Pasadena, California, hometown with openings in Las Vegas, Nevada, and North Hollywood, California, this March. With the addition of these two franchise restaurants, Dog Haus is now operating...
Photo: Tips Times (Flickr)
The clinic has already been busy enough to make plans for adding eye and ear doctors.
Good...
One in five children in America struggles with hunger, not knowing when their next meal may come. Church's Chicken is hoping to make significant strides against that figure by raising money to help feed hundreds of thousands of children alongside No Kid Hungry—a campaign of...