On the fourth Thursday of April this year, nearly 37 million school-aged children and 3.5 million different workplaces across the country will participate in Take Your Child to Work Day, which was started as a way to introduce girls and boys to the career world...
It's the industry's biggest report: The QSR 50, your annual run-down of the best-performing U.S. quick-service brands. The top 50 companies ranked by U.S. system-wide sales, along with an additional 15 brands contending for the list, will appear in the August 2016 issue of QSR, giving you...
Photo: Tierra Brown
There are no tickets on the pay it...
Photo: Ted Cruz Campaign
The Texas senator and presidential hopeful is the only presidential candidate to accept an invitation...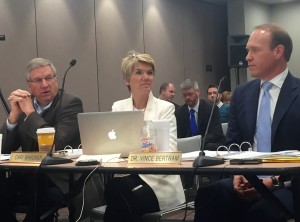 State Board of Education members Steve Yager, Cari Wicker and Vince Bertram listen to the presentation...
Chain restaurant same-store sales fell during March, plunging into negative growth territory for the second time in the last three months. At -0.7 percent same-store sales growth, March represented the second worst month since February of 2014. Only January 2016 was slightly weaker at -0.8...
Republican hopefuls for Indiana's U.S .Senate seat are placing the Affordable Care Act in the center of this May's primary. But, the candidates agree more often than not, and some of their plans are met...
Fitlife Foods, the Southeast's leading fresh, prepared meals retailer, will open their first Orlando location in Doctor Phillips, Florida, on Thursday, April 28.
Orange County residents will experience Fitlife's performance-based lifestyle through fresh, chef-prepared meals, wellness coaching, and more. Fitlife has seven locations in Tampa Bay...
Rob Rosa, a top-producing sales and marketing professional backed by a 30-year career in sales, real estate, and finance, has joined the Hot Harry's Fresh Burritos team heading up franchise sales and recruitment responsibilities. Rob will be handling all franchise inquiries including organizing "discovery day...
Charges will not be filed against Indiana University's former student ethics director.
Jason Casares was accused of sexually assaulting a woman during an event in Fort Worth Texas in December.
Fort Worth Police say there is not enough evidence for a criminal case against Casares,...