Photo: WFIU/WTIU News
Allen County's needle exchange program is open for three hours...
Photo: MTI School of Knowledge
Someone sent similar letters to Islamic organizations across the country.
Leaders at an Islamic school in Indianapolis say they've received an overwhelming...
Photo: WFIU/WTIU News Officials said the bridge will open to the public several hours after the ceremonial caravan crossing. A new Ohio River bridge connecting Kentucky and Indiana will open to traffic on Dec. 18 after a ribbon-cutting ceremony and...
Photo: Joe Hren
Columbus Mayor Jim Lienhoop says they have a deadline of January 15 to submit a railroad proposal.
Columbus...
Photo: Dave Wild (Flickr)
The Indiana State Board of Animal Health is working...
Photo: SUZUKI Hironobu (Wikimedia Commons)
IU Bloomington Sample Gates.
Indiana University's treasurer says financial models show the school will be operating at a net loss by of about $70 million...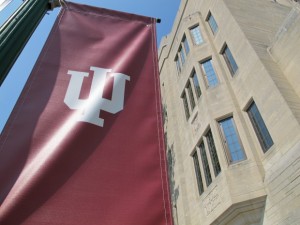 Students at Indiana University and the University of Notre Dame are appealing to administration,...