Photo: MilitaryHealth (Flickr)
There are over 1,300 deaths attributable to secondhand smoke exposure...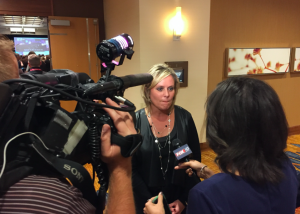 Jennifer McCormick speaks with the press on Nov. 8, after she defeated current State Superintendent Glenda Ritz. (photo credit: Eric Weddle/WFYI)
State superintendent-elect Jennifer McCormick announced her...
TAGS: Mars products, new Wrigley's products, vending, Mars Wrigley Confectionery, micro market, M&M's Caramel,
Mars Chocolate North America and Wrigley announced a lineup of new products that will hit vending machines and micromarkets in the coming months. The...
TAGS: Denys Gorbatiuk, single-serve hotdog, gourmet hot dog, vending, Den's Hot Dogs, vending machine hot dog, On The Go Kosher Dot Dog, hotdog, microwaveable hotdog, convenience food BROOKLYN, NY -- Den's Hot Dogs is widening the market for its pr...
TAGS: Marapharm ACM, Automated Cannabis Machine, Linda Sampso, pot vending machine, legalized marijuana
KELOWNA, BC -- British Columbia's Marapharm Ventures Inc., a company that cultivates medical...