Rapid Fired Pizza has increased its store count to five, with two openings in June. Both 6252 Wilmington Pike, Dayton, Ohio, and 1200 N Bechtle Ave, Springfield, Ohio, opened to hungry crowds that had been anxiously awaiting the stores to open in their neighborhoods. In under...
Photo: Sue Ellspermann For State Rep
Ellspermann can also earn as much as $100,000 per year in performance bonuses.
Ivy Tech's Board of...
Learn more about the inspiration behind CREAM's Waffle Ice Cream Sandwich.
"The whole idea behind CREAM came from my childhood, when we made ice cream sandwiches at home, and it was kind of a staple. When we turned that family tradition into a business, customers really...
A federal judge Thursday ordered the state to include the names of both mothers on the birth certificate of a child born to a...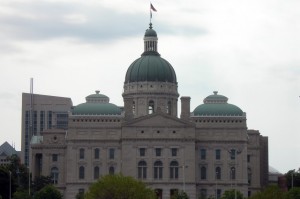 The Indiana Statehouse. (Photo Credit: Jimmy Emerson/Flickr)
Most of the legislation passed by the General Assembly last session goes into affect July 1. Following is a list of this year's new laws.
HEA 1002- Next Generation Hoosier Educators...
Photo: Samantha Horton
The proposed project would connect Interstate 69 sections in Indiana and Kentucky.
The...