Photo: Steve Burns
Saint Mary-of-the-Woods Campus recognized in the National Register of Historic...
Photo: Photo courtesy of Tri-Creek School Corp.
Solar panels at Lowel Middle School abutting a corn...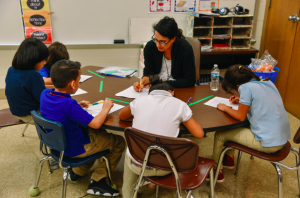 A teacher and students work at Indianapolis Public Schools' Meredith Nicholson School 96. (Photo courtesy of IPS)
The State Board of Education approved school A-F grades...
An Indiana judge has thrown out a lawsuit filed by...
Photo: Jennifer Stewart/Purdue Agriculture
The no-till technique actually increases nitrate leaching, a common cause...
Photo: Jimmy Jenkins
Pettijohn served as the highway superintendent when he allegedly sold equipment to the county through a middle man.
Owen...