The U.S. Census Bureau estimates Bloomington's population has grown by nearly 15,000 people in the last decade.

Matt O'Neill is the owner and chef at the Runcible Spoon.
Photo: Joe Gratz (Flickr)
The ordinance approved in May prohibits requesting or investigating the...
Photo: Barbara Brosher
Mayor John Hamilton flips a switch to turn...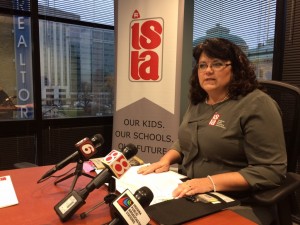 ISTA President, Teresa Meredith outlines the union's priorities in 2018. (Jeanie Lindsay/IPB News)
One of Indiana's key teacher unions says public school educators feel disrespected, and it plans to work...
Photo: WFIU/WTIU News
The grant money will support the creation of 140 permanent seats in two local...
Photo: Flickr
Rooney says lowering the corporate tax rate...
Bloomington-based Uel Zing Coffee announced Tuesday it will...
Photo: David Hartman/Flickr
Under the new requirements, students will have to complete coursework, demonstrate employability skills or show...