Rob Rosa, a top-producing sales and marketing professional backed by a 30-year career in sales, real estate, and finance, has joined the Hot Harry's Fresh Burritos team heading up franchise sales and recruitment responsibilities. Rob will be handling all franchise inquiries including organizing "discovery day...
Charges will not be filed against Indiana University's former student ethics director.
Jason Casares was accused of sexually assaulting a woman during an event in Fort Worth Texas in December.
Fort Worth Police say there is not enough evidence for a criminal case against Casares,...
Terre Haute residents will pay an extra $10 dollars a month after city council passed a Waste and Refuse ordinance Thursday night.
Mayor Duke Bennett says property tax caps have dropped...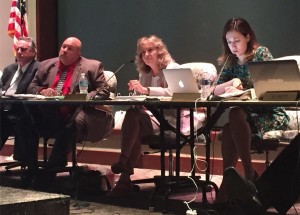 The State Board of Education meets Friday for its monthly meeting. It will decide the fate of seven...
An estimated 35 million tons of food is discarded each year in the U.S., equaling $165 billion in food waste, according to the Indiana Recycling Coalition.
A new program called the Indiana Food...
What do you get when you combine Canadian poutine with Southern barbecue? Chicago's Q-Tine set out to discover—with winning results.
Nestled in Logan Square, Q-Tine offers something out of the ordinary—even for foodie Chicagoans. Billed as "Memphis Meets Montreal," this one-year-old concept meshes the Canadian favorite...
Integrated tablet technology allows operators to run their restaurants from any location.
These days, it's not uncommon to see restaurant staff take orders on an iPad or guests swiping their credit cards on a tablet reader. Mobile technology can integrate various facets of an operation. But...
An Indiana Senate study committee on immigration kicks off next week with the first...
Fuddruckers is proud to announce its new partnership with Houston's Major League Baseball (MLB) franchise. The landmark, Houston-based company has been named the Official Hamburger of the Houston Astros. The duo has joined forces to introduce the "Gam...
Cinnaholic, the vegan bakery acclaimed for serving innovative, gourmet cinnamon roll creations, signed franchise agreements to open a total of nine restaurants in California, Arizona, and Colorado.
The announcement signifies meaningful growth for the gourmet cinnamon roll chain. Six locations will be split evenly between Arizona...