Taco John's doesn't care if a guest visits one of its restaurants in Longmont, Colorado, or Long Island, New York. The Mexican quick-serve chain wants the food, setting and service to be consistently excellent. To reach that goal, Taco John's has signed a three-year deal...
Democratic gubernatorial candidate John Gregg outraised incumbent Republican Mike Pence in the first...
Sharky's Woodfired Mexican Grill, a premium fast-casual restaurant and lifestyle brand offering an award-winning and innovative Mexican-inspired menu, has opened its first location outside of California in Tualatin, Oregon. Sharky's Woodfired Mexican Grill now has a total of 24 restaurants, with plans to strategically open...
If the description of ingredients in the new sandwich from Pal's Sudden Service makes your mouth water, it's understandable.
The new Pal's Patty Melt includes two beef patties, a premium slice of American cheese, pickles, a proprietary dressing, and crispy onion crumbles inside a burger bun...
On the fourth Thursday of April this year, nearly 37 million school-aged children and 3.5 million different workplaces across the country will participate in Take Your Child to Work Day, which was started as a way to introduce girls and boys to the career world...
It's the industry's biggest report: The QSR 50, your annual run-down of the best-performing U.S. quick-service brands. The top 50 companies ranked by U.S. system-wide sales, along with an additional 15 brands contending for the list, will appear in the August 2016 issue of QSR, giving you...
Photo: Tierra Brown
There are no tickets on the pay it...
Photo: Ted Cruz Campaign
The Texas senator and presidential hopeful is the only presidential candidate to accept an invitation...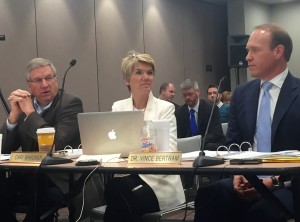 State Board of Education members Steve Yager, Cari Wicker and Vince Bertram listen to the presentation...
Chain restaurant same-store sales fell during March, plunging into negative growth territory for the second time in the last three months. At -0.7 percent same-store sales growth, March represented the second worst month since February of 2014. Only January 2016 was slightly weaker at -0.8...