Photo: Zach Bernard
Gov. Mike Pence campaigned...
Photo: Purdue University
The trustees will vote on Daniels' incentive pay Friday.
Purdue University officials are set to determine whether its president, former Indiana governor Mitch Daniels, has earned a...
Photo: Joe Hren
Terre Haute Mayor Duke Bennett says he will look at a mix...
Photo: Cindy Cornett Seigle ( Flickr)
West Boggs Lake near...
Photo: WFIU Public Radio
Among other things Ivy Tech's new policy allows students to use facilities that match their...
Photo: Esparta Palma (Flickr)
The new area code will "overlay" – or be...
Assembly Hall Video Board

Assembly Hall South Entrance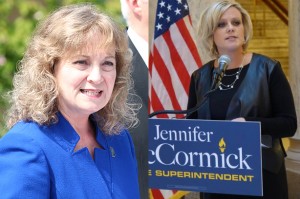 Glenda Ritz and Jennifer McCormick, the candidates for Superintendent of Public Instruction, will debate in Ft. Wayne Oct. 17.
This election season finally has an end in sight. As you all are thinking about who will receive your vote...
Construction for the project will cost $679,875 and engineering will cost $69,000.

The historic bridge was built in 1880.
The restoration...