The Jack in the Box Foundation announced a $375,000 donation to Big Brothers Big Sisters, which will allocate a large portion of the funds to provide mentors to children from military families, including children of the deployed, children of the fallen, and children of the...
Dickey's Barbecue Pit has recently signed a 12-store development agreement with owner-operator Michael Tucker. Already the owner of the La Quinta Dickey's location, Tucker's agreement originally contained four stores, which are slated to open in Indio, Moreno Valley, and Redlands, California. The new agreement adds...
Taco John's has finalized a multi-year 20-store deal for New York City and portions of the Northeast. The agreement includes an option for 15 more locations in the region. In the same week, the Mexican quick-serve chain has also inked another four-year, 20-store deal for...
When it comes to traditional home-style Mexican food on the go, the first name that comes to mind for most Inland Empire residents is Miguel's Jr.
Since 1975, Miguel's Jr. has served traditional Mexican cuisine based on authentic family recipes to a growing fan base in...
Photo: Steve Burns
According to U.S. Census Bureau data, about 15 percent of the people in Scott County are...
Hoosiers seeking a venue to mourn the loss of Prince now have a place to remember the...
While the efforts of various restaurants to increase the healthfulness of their offerings continue to garner industry-wide attention, one key consumer group is rarely addressed: kids.
Despite the relative lack of media attention, a new study has found that the largest restaurant chains are working to...
Bankruptcy may conjure images of financial ruin, but it can offer a rare opportunity to reboot the brand.
It would have been easy for the leadership team at Saladworks to hide out in their offices at the company's headquarters in Philadelphia, wallowing in consternation after their...
Photo: Courtesy Sears Holdings
A statement says "the company believes it has taken important steps toward its primary...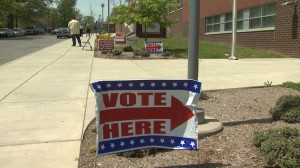 Many schools started turning to these referendum questions after property tax caps went into place in 2008. (photo credit: Jashin Lin/WTIU News)
As the May 3 Indiana primary approaches, ten school districts across the state are asking voters to raise taxes...